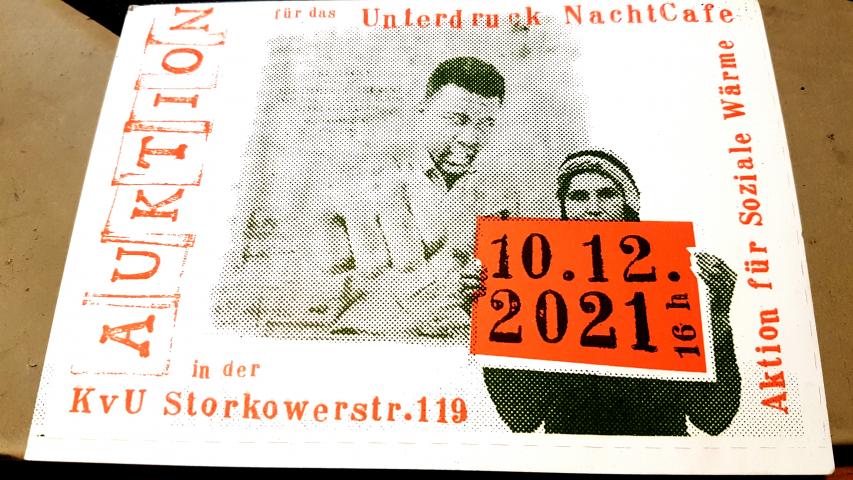 (english & links below)
die jährliche Spende-Deine-Kunst-Aktion der Czentrifuga für Obdachlose Menschen.
Soliaktion für Soziale Wärme - AUKTION | 10.12.2021 ab 16 Uhr in der KvU. ***2G Event***
Czentrifuga will Geld für das Nachtcafé von Unterdruck e.V. machen.
SPENDE deine Kunst!
ÜBERGIB FEIERLICH an die Auktionäre.
KOMM zur Auktion in die Kirche von Unten KvU Storkower Str. 119
WIE
•Schick uns dein Werk vorher als JPG an czentrifuga@posteo.de
•Bring es zur Czentrifuga oder zu Serigrafeur. Wir geben dir die Adressen und Öffnungszeiten per Mail bekannt.
•Wir stellen einen Katalog online
•Wir verkaufen die Kunstwerke auf der Auktion
•Wir sorgen für Unterhaltung
•Komm vorbei und bring deine Freunde mit!
mehr infos und direkt link zu unserer "unter-druck better place" spenden portal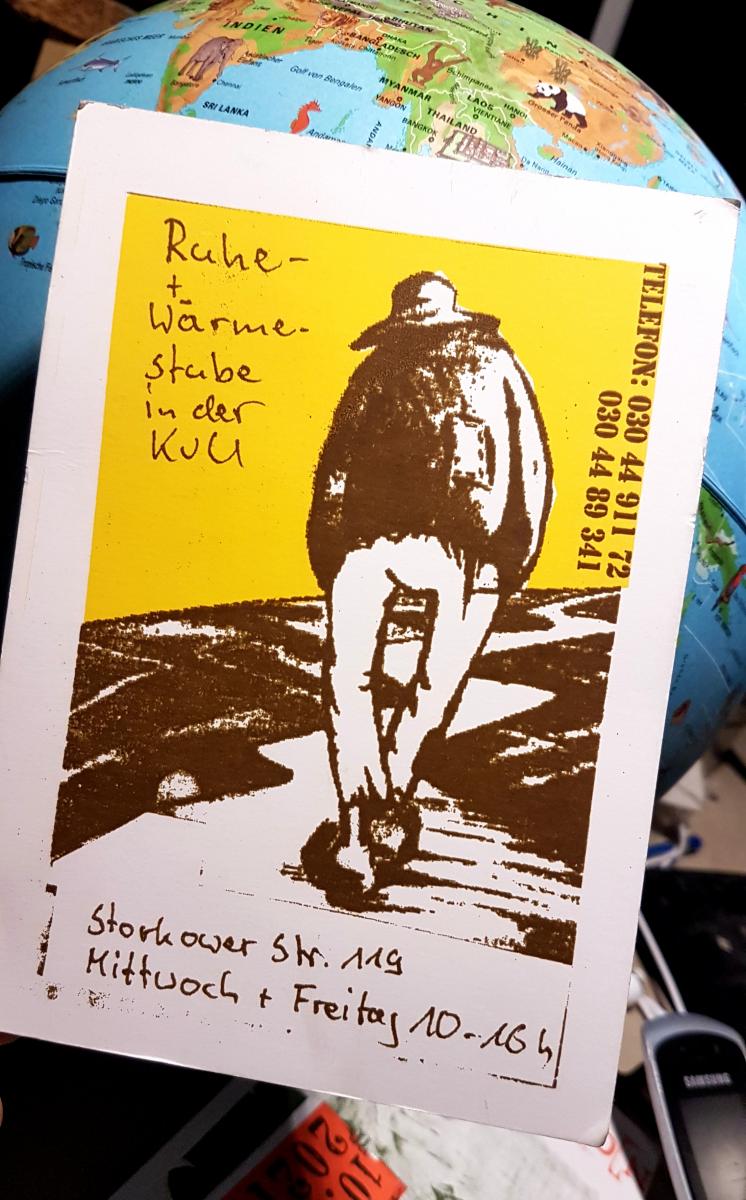 SOLI ACTION FOR SOCIAL WARMING AUCTION | 10.12.2021 from 16hr at KvU. ***2G event***
Czentrifuga wants to make cash for Unterdruck's Nachtcafé.
Donate your art.
Buy art.
join us at the auction at Kirche von Unten KVU Storkower Str. 119
HOW TO
•Send it as JPG to us beforehand to czentrifuga@posteo.de
•Bring your work to Czentrifuga Ateliers
or to Serigrafeur
We will give you the coordinates and opening hours via email.
•We compile a catalog online
•We sell the artworks at the auction
•We do entertainment
•Come by and bring your friends!
https://czentrifuga.poetaster.de
https://unterdruck.poetaster.de/
https://www.instagram.com/p/CWWmzV1M-wk/
https://www.facebook.com/czentri.fuga
Kirche Von Unten (K.V.U.) https://kvu-berlin.de/
Date:
Friday, December 10, 2021 -