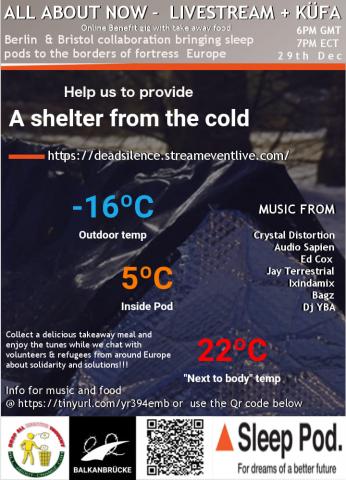 all about change / czentrifuga present
Digital Soli (benefit gig) with Kufa (food for all) to build Sleep Pods for Belarus border crisis fundraiser!
Join us for an international meal with good music and a digital information feed. We want to bring people together from various humanitarian voluntary organisations across Europe.
We will be sharing information about groups and ways to get involved in actions of solidarity.
(A kind of a digital food not bombs for info!)
You can also join us in person on the 29th December for good food in…
Bristol (pizza at the Red Lion pub) where we will have information and live music displayed on a projector via a live stream.
**The rest of you can join us online via Dead Silence Livestream... EXACT URL WILL BE ON THIS PAGE ON THE NIGHT**
We invite you to join in the conversation in the comments section where we can work on SOLIDARITY AND SOLUTIONS! Info in the comments will include links to various groups who work with refugees across Europe.
LINE UP
Crystal Distortion
Audio Saplen
Jay Terrestrial (Inner Terrestrials) Acoustic Set
Ixindamix (Spiral Tribe)
Bagz (Dead Silence Syndicate)
Ed Cox (Life for Land)
DJ YBA
Telegram groups for ordering food in Bristol & Berlin
Order Pizza in Bristol for collection at the Red Lion at: https://t.me/+PAcUwoP0FgE1ZDVk. or just show up.
We will also be broadcasting information about other fundraisers and projects, including...
No Name Kitchen (Balkans and Spain)
Balkan Brucker
The Calais Woodyard
All About Change
The Sleep Pod Project
Ocalenie (Warsaw)
**Open invitation to join the conversation from all aid groups so please share this!**
** What's the money for? **
We are currently raising funds to build and distribute sleep pods via groups distributing aid to refugees at the Belarusian border, as well as the Balkan crossing points.
(See https://sleeppod.org.uk/)
Funds with be distributed to Balkan Brucker and All About Change (50/50)
You can donate to directly now via https://gofund.me/165db3f4
The event on the 29th will also serve as an outreach point where we can recruit volunteers for the build events, which will most likely take place in the following days before New Years Eve.
One of the sleep pod team is driving from the UK to Berlin to build the pods with us prior to delivery to the borders.
** To volunteer to help build the sleep pods either on the 29th or in the following days, please join this group if you're interested in helping...https://t.me/+xzzVDIg8mFYzNjc0 **
This event will be a great opportunity to find out more about volunteering positions, by talking to those who are currently doing so, while sharing your support from the comfort of home.
**We hope to see you there for a new style of info sharing soli, which we hope that we can repeat and grow exponentially!**
ITS ALL ABOUT … NOW!!!
To find out more about what we do, check out https://all-about-change.com/
See less
Date:
Tuesday, December 28, 2021 - 11:45